Books read in June
Summer School Books
(all rereads)
Fahrenheit 451
by Ray Bradbury
This is the story of one man pitted against society. A society in whic
h
books are forbidden, front porches ar
e obsolete, kids are murderous and wil
d, billboards are extended in length because drivers drive at top speed. Everything happens at top speed. Reflection, conversation, long walks are taboo. The way I see it, Bradbury combines the messages of George Orwell's

1984

with Aldous Huxley's

Brave New World

and this book is what emerges.

Montag is a fireman. Firemen are an extension of the police, the keepers of t
he peace. The police arrest dissenters, folks
who've been turned in by neighbors, friends. Then Mont
ag and the rest of his crew arrive to torch the place. Instead of water, their hoses are full of gasoline.
They burn the contents of the homes, eliminating contraband. Cleanin
g up.

Things are fine for Montag, at least o
n the surface, until one day he meets a young girl named Clarisse who walks home with him, who asks him questions, who wonders things out loud, who asks him if he's happy. When she turns toward her house, he realizes he is not.

He sees his wife, overdosed on sleeping pills, ear buds whirring away in her ears filling her mind with so much noise and information
there
isn't room for independent thought. He calls the portable MDs who come to pump her stomach and he's sick at what they've become. When he tries to talk to his wife the next day she's only interested in the TV Parlor wher
e her programs are projected on three walls, all she needs is a fourth wall and things will be complete.

Montag's dissatisfaction mounts until he can
not go back and his ordered world unravels
from there.

The book is filled with Bradbury's future technology... crafted by him in the 19
60s --some of which are ve
ry real things today. The book is full of philosophical exploration on the worth of books and th
e way that people interact with them. I can't rea
lly begin to fully
explain or explore this issue in this small space. I can only say, READ this book. It should remind you of why we must never st
op re
ading. Never stop questioning. Never stop trying to make a difference in our worlds.
A Midsummer Night's Dream
by William Shakespeare
I've read Shakespeare's
A Midsummer Night's Dream
countless times because I use it in my classroom. It's fanciful and funny. Never pass up a live performance and the 1999 film's pretty good too! This summer we read it aloud using our school's lecture bowl stage and walked through the roles butchering the play much like Bottom, Quince, Flute and so forth perform
Pyramus and Thisbe
. What fun! If you've never read this play... get thee to the library and find a copy!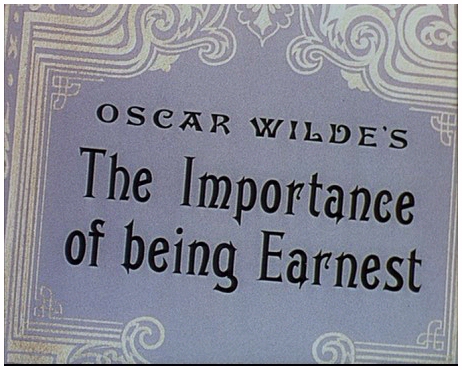 The Importance of Being E
arnest
by Oscar Wilde
I get a kick out of Wilde's plays--they're all great . In summer school, we read
The
Importance of Being Earnest
--a punny play full of misunderstanding, deception, absurdity, and laughter. Oh, and love. In typical comedic form, it all ends well. The
2002 film
with Rupert Everett and Colin Firth is most excellent, as well. While it does stray some from the order of events in the play, the director does a fine job of capturing the spirit of Wilde even adding some nice, tattooed touches. :) Read it, watch it--preferably in that order--you won't be disappointed.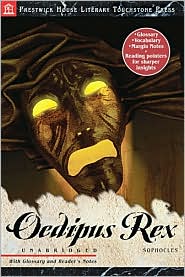 Oedipus Rex
by Sophocles
Ahhh, good old Oeddie. I would say that in 14 years of teaching I've read this play aloud hundreds of times. I've nearly got bits of it memorized. For some reason the unusual play format and the poetic choral odes freak students out so I find myself reading the parts. At one time, our tutor Tara and I contemplated filming ourselves enacting it in front of city hall because it seemed like the right architecture, but we just never got down to business. Instead I crafted a few paper doll popsicle stick puppets and when I do end up reading it aloud with kids I do all the voices and use the puppets as a means of demonstrating when characters arrive in the scene and depart. It's pretty funny for me, actually. I love the look of dismay when the 18 year olds see me getting it all set up!
Many of the kids are familiar with the story because they usually read
Antigone
in grade 10. And once we get going they discover it's easier to read than Shakespeare simply because of the Greek being translated into a modern English. The allusions are heavy in this play but most textbook versions have good footnotes and meaning can be grasped regardless. If you've not read any Sophocles, this one is good fun. It has a lovely gross out factor at the end and it explores fate, fidelity, friendship, folly, hmmmm... leadership, relationship to the gods, the search for truth, and pride. (Just couldn't keep up the alliteration!)
Essays
This I Beli
eve:The Personal Philosophies of Remarkable Men and Women
by Jay Allison
I first learned about
This I Believe
on NPR and by visiting the website I discovered curriculum I could use with my students. I checked the book out of the library and decided to read it but discovered it's far easier to read an essay here and there rather than tackle it cover to cover. Instead, it's taken me weeks to work my way through the essays, though they each read in mere minutes. I found myself selecting which to read based on the titles "Be Cool to the Pizza Dude" or because I recognized the authors' names -- John Updike, Loudon Wainwright III, Gloria Steinem.
Many of the essays moved me to tears and others made me smile or nod in agreement. I love this idea--trying to capture what one believes in 350-500 words.
Here are my favorites in order of appearance in the volume--of course, as I type these I realize there are still some I have yet to read--here's my list as of today--
"In Giving I Connect with Others" by Isabel Allende
"Good Can be as Communicable as Evil" by Norman Corwin
"The Connection Between Strangers" by Miles Goodwin
"The Power of Presence" by Debbie Hall
"A Grown-Up Barbie" by Jane Hamill
"The Making of Poems" by Gregory Orr
"The America I Believe In" by Colin Powell
"When Children Are Wanted" by Margaret Sanger
"There Is No Such Thing as Too Much Barbecue" by Jason Sheehan
"A Balance Between Nature and Nurture" by Gloria Steinem
"Always Go to the Funeral" by Deidre Sullivan
"How Do You Believe in a Mystery" by Loudon Wainwright III
YA/Juvenile Fiction
The Graveyard Book
by Neil Gaiman
This is the story of Nobody Owens--a boy who comes to the graveyard as a baby and is taken in by ghosts to raise as their own, when the babies recently murdered family begs for his protection. A killer still lurks that night and years later, wanting to "finish the job."
We see Bod grow from a small child, he's cared for and educated by an interesting cast of characters. We experience the adventures a young boy might experience in a graveyard, some harmless, some terrifying. We meet his only living friend, not once in the story, but twice years later when she and her mother return to town.
We finally learn the reason he was marked for death and we see the greater forces at work.
The story was quite charming. After reading
Coraline
, I was leary. I found
Coraline
to be too scary for me, let alone small children. I wondered if this might be the same. I will say the opening murders and the terror of being pursued by a dangerous mad man at the end might be a bit much for kids. I wonder at the books selection as this year's Newbery. It seems like it has a limited audience for those violent elements at least. As a parent, I would READ this first, before pressing it into the the hot little hands of your child. Only you, truly know what your children can handle.
Gaiman said he always loved Rudyard Kipling's Jungle Book and that this was his version... a man child raised by ghosts, instead.
RRVWP Book Club Pick --Fict
ion
Slaughterhouse Five
by Kurt Vonnegut
Years ago my sister Lori read this book and immediately demanded that I read it so we could discuss it. I didn't get around to it, until now when our book club decided this was the "classic" we were going to tackle for June. We usually try to read at least one of those books that many consider to be part of our literary consciousness. There are so many, and even as an English teacher, I've not read them all. It turned out THIS was a title many of us hadn't read.
The general response was mixed. I actually liked the book. I agree with my sister, though, it was a bit "messed up" and demanded discussion. With the internet so handily available I immediately googled the book and read the Wikipedia page, some of the Spark Notes, and several articles about the book, including some biography pages of Kurt Vonnegut.
This was not my first exposure to Vonnegut, however. In college I read
Cat's Cradle
, a book which also inspired a "what the heck" as I read it. Both books have an irreverence for Christianity that might be part of why his work is so frequently getting "challenged" in schools and libraries. I, also, use the short story "Harrison Bergeron" with students.
One question that was posed at book club was "Why? Why is this book considered such a classic?"
We speculated and here are a few ideas that emerged.
Slaughterhouse Five
is a story within a story. It's a great example of post-modern writing. Part of the lesson that Billy Pilgrim learns from the Tralfamadorians (the aliens who abduct him and put him on display in a zoo on their planet) is demonstrated in the time travel. The structure of the novel seems to be doing something unusual and while that alone might be noteworthy, the subject matter is. We didn't completely solve this question.
It's an anti-war story told at a time when the world was rather fed up with the Vietnam War. It's a story about the bombing of Dresden and one man's response to that event. Vonnegut, himself, actually survived the bombing of Dresden and perhaps this is his way of dealing with that event.
This novel reminded me of Hemingway's short story "A Soldier's Home" which is in our American Literature textbook. In that story, Harold Krebs returns home from war and is clearly suffering from a post-traumatic stress disorder. Billy Pilgrim in Slaughterhouse Five is much the same. His apathy, "so it goes," to everything in his life from his wife, to his kids, to his job, is indicative of the sort of man he's become post-war. He only seems to get excited by Kilgore Trout, an unknown, unusual author whose work he's introduced to in the mental institution following the war. Kilgore Trout is a terrific character, the alien bit was great fun. And the war segments which actually do seem to appear in a chronological order were intriguing. Those bits made me want to know more about what happened in Dresden. They reminded me that I've read another version of that event in Jonathan Safron Foer's book
Extremely Loud and Incredibly Close.
In a way, it's rather interesting how many WWII books keep falling into my lap, quite unintentionally. Each from a different angle, a different slice of the event. I feel like I'm growing.
Slaughterhouse Five
was worth the read, I'd recommend it even though some book club members would not. We had a rousing discussion, so there's always that!

Films watched in June
Click the links to see my in-depth posts on these movies.
Taken
Up
He's Just Not That Into You
Last Chance Harvey
Revolutionary Road
A Midsummer Night's Dream*
Much Ado About Nothing*
Angels and Demons
Nights in Rodanthe
Bride Wars
Mr. Smith Goes to Washington
*
The Importance of Being Earnest
*
* films I've seen before
Music listened to in June
Already Free
by Derek Trucks Band
I bought this CD in preparation for the concert which I attended a couple weeks ago. I still need to finish that blog post. It was terrific and his cd is too. Give it a listen!
God Help the Girl
I can't even remember which blog had a mention of this fine group and their divine CD, but I'm forever grateful. It's been in heavy rotation since I picked up my copy on July 23rd. Yum. This may warrant a blog post of its own, but I will say this much. I can't pick a favorite song because they are all wonderful. The music has a sort of late 60s feel to it. Vintage, yet modern. I don't really have the words to say how much I adore this album.
Heart's Greatest Hits
I blogged about this cd
here
, two years ago.
My current favorite song this go round is "If Looks Could Kill"