Glee
makes me giddy. It brings me joy. This is my new favorite TV show and my current musical obsession. I bought the first volume at a bargain price on Black Thursday and then on my drive home from the Twin Cities last Tuesday I cracked open my brand new copy of Volume 2.
The music is super fun and the performances are always such a joy to watch, but there's more than that to the show. I like the story and the characters too. Especially Sue Sylvester (Jane Lynch), she is great in everything she does (Two and a Half Men, The New Adventures of Old Christine) but in this she's deliciously evil and riotously funny.
I also just discovered the
Official Glee Wiki
which features songs from every episode in you tube video format. This includes those Acafellas songs which were left off the CDs.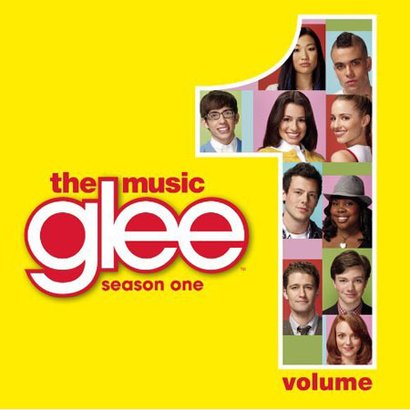 1. "Can't Fight This Feeling"
2. "Don't Stop Believin'"
3. "Gold Digger"
4. "Take a Bow"
5. "Bust Your Windows"
6. "Taking Chances"
7. "Alone"
8. "Hate On Me"
9. "Maybe This Time"
10. "Somebody to Love"
11. "No Air"
12. "You Keep Me Hangin' On"
13. "Keep Holding On"
14. "Bust a Move"
15. "Sweet Caroline"
16. "Dancing with Myself"
17. "Defying Gravity"
"Proud Mary
"Endless Love"
"I'll Stand By You"
"Don't Stand So Close To Me / Young Girl"
"Crush"
"(You're) Having My Baby"
"Lean On Me"
"Don't Make Me Over"
"Imagine"
"True Colors"
"Jump"
"Smile" (cover of Lily Allen)
"Smile" (cover of Charlie Chaplin)
"And I Am Telling You I'm Not Going"
"Don't Rain On My Parade"
"You Can't Always Get What You Want"
"My Life Would Suck Without You"
I'm not even sure I can decide which are my favorites. I did think that the "Don't Rain on My Parade" by Rachel (Lea Michelle) was pretty freakin' amazing. "Bust Your Windows" by Mercedes (Amber Riley) is surprisingly fun and "Dancing with Myself" by Artie (Kevin McHale) is a favorite from Vlme. 1 and so is "Somebody to Love."
I'm not sure I'll to be able to wait until April 13th when the show returns.