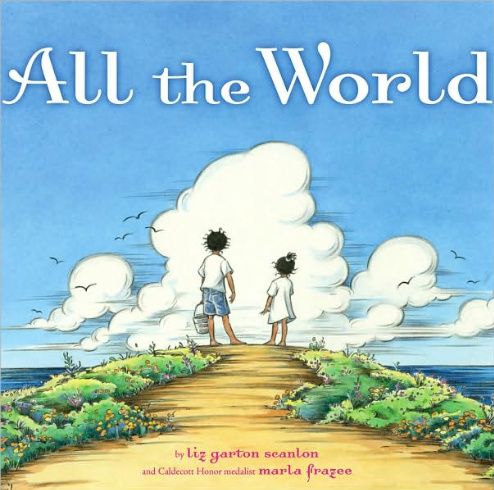 All the World

by Liz Garton Scanlon
,
Illustrated by
Marla Frazee
"Rock, stone, pebble, sand
Body, shoulder, arm, hand
A moat to dig,
a shell to keep
All the world is wide and deep."


I picked up a copy of Scanlon/Frazee's book at the library after seeing a mention online and I wasn't disappointed. This children's book offers a beautiful message of celebration for all that is good in the world and lovely illustrations. I have loved and own several books illustrated by Marla Frazee (
The Seven Silly Eaters
,
Santa Claus: The World's Number One Toy Expert
) and it is always the artwork in a picture book that sucks me in. This one is no exception. It's no wonder that
All the World
is one of the
Caldecott Honor books for 2009.
Check out a GREAT post
on Marla Frazee over at
Seven Impossible Things Before Breakfast
.